How to Respond to Positive Reviews About the Company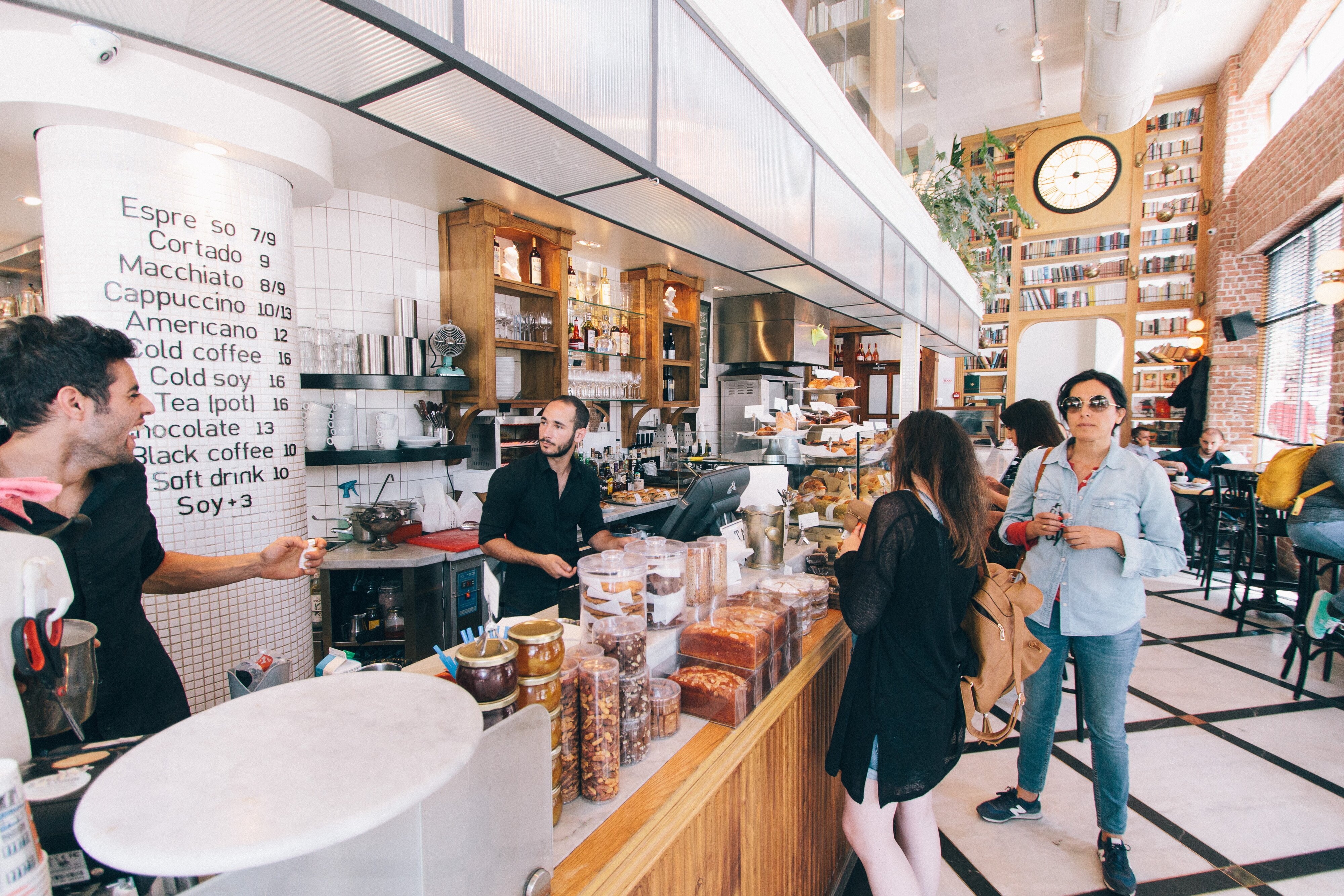 It's nice to know that customers were satisfied enough with the quality of your services that they took the time to write a good review. Positive comments help build an online reputation and sell better. In this article, you'll learn why it's important to respond to positive reviews and how best to do so.
Why is it Important to Respond to Positive Reviews?
In most cases, business owners rightly pay close attention to negative reviews. These 'hot spots' signal that there is a problem that needs to be solved immediately. Thus, many company resources are spent on getting into a conversation with an unsatisfied customer and smoothing out the bad impression.
At the same time, positive reviews can help your business a lot, so do not forget to reciprocate. Here are some reasons why you should take the time and express your gratitude to your satisfied customers.
Your answer shows that you value feedback from your customers and care about what they have to say. Being responsive helps build and maintain a good relationship with your customers.
It can help attract new customers. Lots of positive feedback and the company's friendly response to it leave a good impression on potential customers. Chances are, they will want to use your services.
It's a good excuse to talk more about your company's strengths. When a customer writes a positive review, they usually say what exactly they liked: the courteous staff, the quality of service, the convenience, or something else. You can use this as a clue to talk about your business in a low-key way and mention other assets as well.
Responses to positive feedback help sell additional services. The customer has already chosen you, used the service, and is satisfied. This is the perfect time to offer additional services to everyone who reads the response. For example, you can invite the customer to come back and use more of the company's services.
Responding to good reviews improves your company's visibility in search results. This is especially true for small local businesses whose main target audience lives nearby. For example, when a customer searches for a hair salon near them, Google is more likely to suggest the businesses with better reviews and responses first. Always respond to user comments on social networks, platforms, and business directories where your business is present. Check now if you have any unanswered positive reviews on Nicelocal.
How Do I Respond to Positive Reviews?
When responding to positive feedback from a customer, it is important to keep a few rules in mind.
Respond quickly. Leaving a good review is an act of goodwill on the part of the customer. Most of the time, people leave good reviews right after they make a purchase or use a service. If you leave a positive review unanswered for days or even weeks, the customer will get the impression that you don't care about their experience. Make it a rule to respond to feedback within 48 hours or less of posting.
Be authentic. It's nice not to get an automated response, but warm words from a real person. Remember that your customer is a fellow human being who appreciates kindness and courtesy.
Be brief. Don't overdo it when responding to a positive comment. Try to express your appreciation in a few sentences.
Encourage them to use your service again. In response to a positive comment, it is appropriate to add a small call to action. Invite the customer to use your services again. Make sure your invitation looks casual and friendly.
Your response to a positive review should consist of four key elements:
Greeting,
Appreciation,
Supporting an idea in the review with a concrete example or fact,
An invitation to the customer to use the company's services again
Address Your Customer and Thank Them
The first rule of a good reply is to call the customer by name and thank them for taking the time to write the comment. This doesn't take long and makes a good impression, even if your answer is short.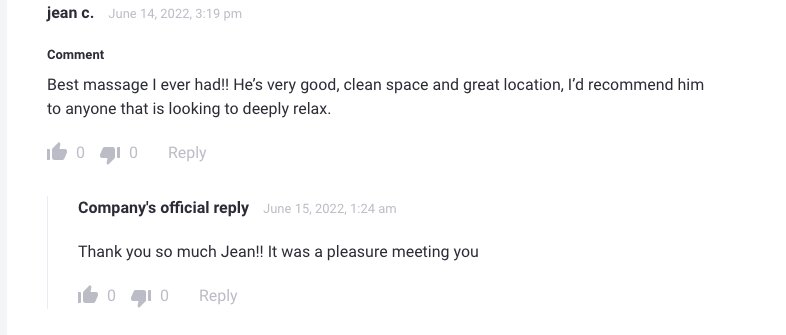 Addressing the customer by name is a good way to personalize even the shortest response.
Pay Attention to a Specific Point in the Review
Most likely, the customer mentioned in their positive review what they liked about your company. It could be the quality of the goods, the fast delivery, the friendly staff, the good location or the delicious food. In your response to the comment, try to reflect the customer's good experience and highlight the benefits of your business.
By disclosing one of the statements in a review through a fact, you are confirming all the good things the customer has written about you. Facts generally inspire more credibility than the mere sentence about a personal address. It is always worth explaining what is behind the standard phrases.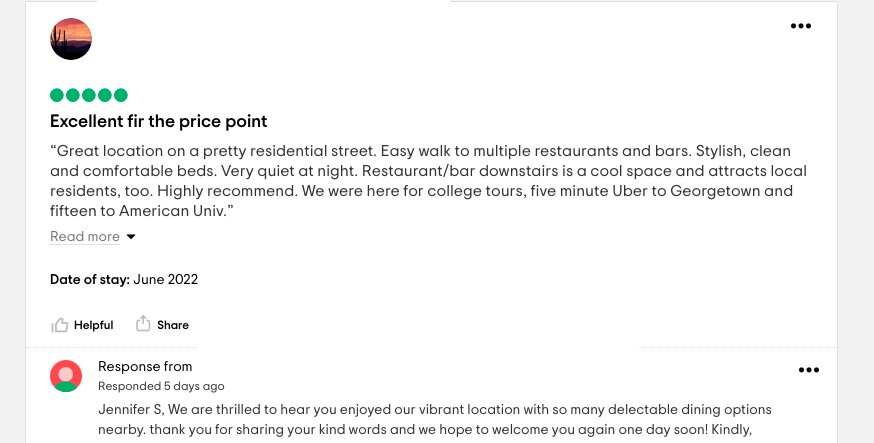 In response to the customer's positive comment, the staff again points out the hotel's excellent location.
Put a Little Call to Action
You can make responding to a positive comment even more beneficial to your business. At the end of the message, gently prompt the satisfied customer to take the next steps. You can encourage them to book another visit, use other services, share their experience with their friends, or sign up for the company's social networks. It all depends on your business goals. The only important thing is that the call to action is natural and friendly.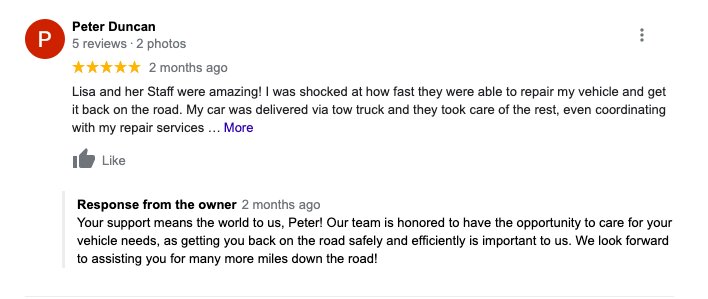 An example of how the car service invites the customer to long-term cooperation in a friendly way.